Share your talent with the next generation.
ABOUT TEACHER EDUCATION
If you believe in the power of learning and are passionate about helping people, both young and old, achieve their full potential, then you will thrive on one of our many Teacher Education courses. 
 
Our teaching and education qualifications are for those who dream of working in further or higher education with options for both gaining general expertise as a teaching assistant and teaching a specific subject. 
 
Whether you are only just starting your journey into a career in education or are wanting to further your knowledge so you can develop professionally, we'll match you with the right course for your needs and equip you with the skills, knowledge and hands-on experience to succeed in the industry. 
SCHOOL OF
COUNSELLING & EDUCATION
As a student of our School of Counselling and Education, you'll be based at our Shena Simon Campus, which is located in the heart of Manchester city centre and close to public transport links.
Our goal is to help you to secure employment or that much sought-after promotion when you graduate, enabling you to work in a range of sectors to support people be their become their best selves. Our tutors are experienced professionals who've done it before and know what it's like to work in industry. So, if you want to benefit from smaller class sizes and one-to-one support when it's needed, look no further.  
We also understand that you have a life and commitments away from your studies, which is why our courses are delivered in a way that will enable you to strike the right balance for you. A great deal of our offer is part-time and designed to accompany and complement your current role or work placement, enabling you to make an immediate impact as you apply what you are learning into practice. 
DIGITAL PROSPECTUS
Access our digital prospectus for information, advice and exclusive content tailored to your interests.
MEET SOME OF THE TEAM
Our staff are experts in their field and hold a varied range of professional and industry experience. Their support and dedication ensure you are guided, supported and encouraged to learn and achieve within Teacher Education.
OUR FACILITIES
Based at our Shena Simon campus, located close to Manchester Piccadilly, we have a range of facilities that will help give you a great student experience. This includes a refectory serving hot and cold food, a spacious open plan Library with access to IT facilities, including Lapsafes that provide self-service laptops, and plenty of spaces in which you will be able to catch-up with friends. 
In addition to these communal facilities, we will be improving your teaching spaces aligning them more closely with those environments that you will work in when you start your career. These facilities will provide you with access to everything you will see once you enter the workforce, giving you the best possible chance to prepare for a future career.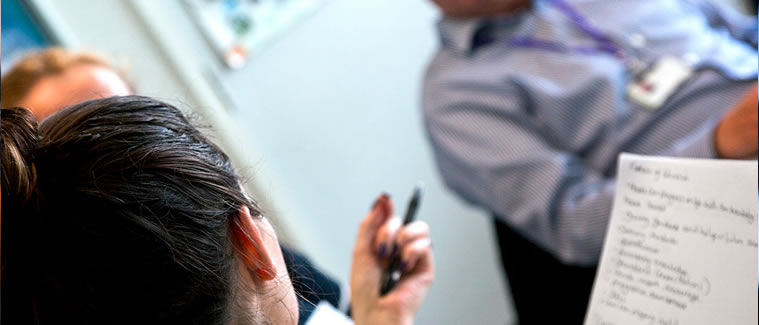 I have learnt some excellent teaching strategies as well as improved my teaching and planning abilities.
Case Studies
There are thousands of UCEN Manchester graduates who've found their future with our help.
Latest News
Get the latest news, views and stay up to date with what's happening at UCEN Manchester.