Creative Arts and Digital Media
Be the next generation of creative excellence.
ABOUT CREATIVE ARTS AND DIGITAL MEDIA COURSES
Whether you love producing exciting, engaging content and want to take your skills to the next level or you have a passion for gaming, graphics or animation and dream of pursuing a career in this sector, you'll feel right at home working under the direction of our experienced tutors.
With growing demand for fresh talent in the creative industries and new opportunities constantly appearing, our extensive range of creative arts and digital media courses mean you're sure to find one that will open the door to the creative, content led career you crave. What's more you'll benefit from working on industry standard briefs that will help you gain all the skills you'll need to hit the ground running when you enter the workplace. 
Our creative arts and digital media courses offer the ideal environment for you to explore your talent, collaborate, network and build your experience. You'll also be among the first students to use the fantastic facilities at our brand-new City Campus Manchester. Based directly opposite the AO Arena the campus is home to our School of Art, Media and Make-Up, which also encompasses degrees in Creative Arts and Make-Up Artistry and Special Effects. 
SCHOOL OF
ART, MEDIA AND MAKE-UP
As a student of our School of Art, Media and Make-Up, you'll benefit from learning in industry-standard, state-of-the-art facilities at our brand new City Campus Manchester. 
Our goal is to help you to secure employment or that much sought-after promotion when you graduate, which means you can expect to be treated as an individual, rather than a number. Our tutors will get to know you and ensure you receive the help you need to succeed. So, if you want to benefit from smaller class sizes and one-to-one support when it's needed, look no further. Everything is a little more personal here and don't be surprised if your fellow students are keen to lend a helping hand as well – we're all in it together.
You'll also graduate with experience of a range of disciplines and a broad professional network that will support your long term career within the creative arts and digital media industry thanks to our links with industry partners.
DIGITAL PROSPECTUS
Access our digital prospectus for information, advice and exclusive content tailored to your interests.
MEET SOME OF THE TEAM
Our staff are experts in their field and hold a varied range of professional and industry experience. Their support and dedication ensure you are guided, supported and encouraged to learn and achieve within Creative Arts & Digital Media.
OUR FACILITIES
As a digital media student you'll benefit from brand-new industry standard facilities at our City Campus Manchester, including:
a 3D Games Development studio
a reprographics room with oversized printer, laser printers and vinyl cutters
a screen print room and a wet room as well as a number of Mac suites.
As a Visual Arts student you'll be able to use our:
Jewellery studio with 2 brazen hearths, fume cupboard, laser cutter, polisher and plastics room
Ceramics studio with potters wheel, cold store and 2 kilns
Textile print studio
Printmaking studio with hot plate, screen-print tables, and storeroom with exposure unit and drying cabinet
Garment construction studio with sewing machines, eyelet and fusing presses
3D workshop with various saws and cutting machinery
Fashion and pattern cutting workshop
A photography studio with a central dark room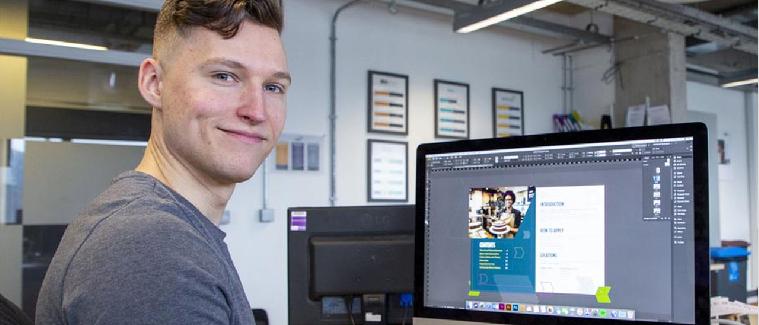 Your work improves to industry standard, and there is a real focus on establishing industry contacts and getting yourself and your work out there.
Case Studies
There are thousands of UCEN Manchester graduates who've found their future with our help.
Latest News
Get the latest news, views and stay up to date with what's happening at UCEN Manchester.