Make-up Artistry and Special Effects
Explore your creativity in the heart of Manchester.
ABOUT MAKE-UP ARTISTRY AND SPECIAL EFFECTS
If you're obsessed with using Make-Up to create different looks or want to make a career out of turning people into characters ready to perform for film, stage and TV, you'll fit right in on one of our Make-Up Artistry and Special Effects courses. 
Whether you're passionate about the cosmetics industry, fashion, film or special effects, we'll help you find the right course to set you on your way to achieving your dreams. 
Transformation and visual enhancement are at the heart of our Make-up Artistry and Special Effects courses. And by the time you leave us, you'll be ready to hit the ground running and forge an exciting career in this broad and vibrant sector. 
Our courses offer the ideal environment for you to explore your talent, collaborate, network and build your experience. You'll also be among the first students to use the fantastic facilities at our brand-new City Campus Manchester. Based directly opposite the AO Arena the campus will be home to our School of Art, Media and Make-Up, which also encompasses our Creative Arts and Digital Media courses. 
SCHOOL OF
ART, MEDIA AND MAKE-UP
As a student of our School of Art, Media and Make-Up, you'll benefit from learning in industry-standard, state-of-the-art facilities at our brand new City Campus Manchester. 
Our goal is to help you to secure employment or that much sought-after promotion when you graduate, which means you can expect to be treated as an individual, rather than a number. Our tutors will get to know you and ensure you receive the help you need to succeed. So, if you want to benefit from smaller class sizes and one-to-one support when it's needed, look no further. Everything is a little more personal here and don't be surprised if your fellow students are keen to lend a helping hand as well – we're all in it together.
You'll also graduate with experience of a range of disciplines and a broad professional network that will support your long term career ambitions thanks to our links with industry partners.
DIGITAL PROSPECTUS
Access our digital prospectus for information, advice and exclusive content tailored to your interests.
OUR FACILITIES
As a Make-up Artistry and Special Effects student you'll benefit from brand-new industry standard facilities at our City Campus Manchester, including:
SFX and spray booth with fibreglass and encapsulation rooms
A dispensary
Aesthetics training room with treatment and laser rooms
Fully equipped media hair and Make-up suites/salons 
A dedicated photography room
Classrooms and mac suite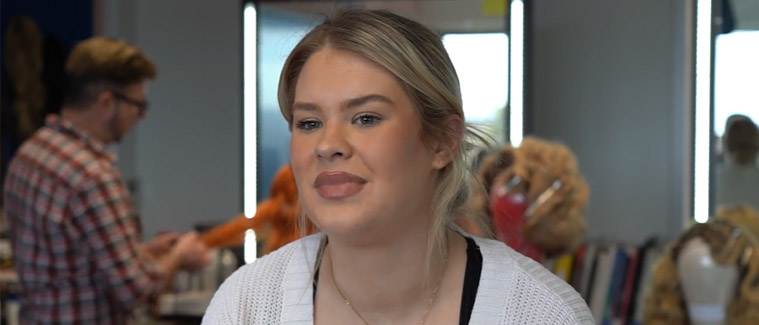 I loved how creative the course was. Any idea was accepted and you could run with it as much as you wanted. The tutors loved how original you could be.
Case Studies
There are thousands of UCEN Manchester graduates who've found their future with our help.
Latest News
Get the latest news, views and stay up to date with what's happening at UCEN Manchester.