Shape the future of the health and care sector and forge a career you love.
ABOUT HEALTH AND WELLBEING
If you want to help people live healthy, happy lives and your dream job involves taking care of others as a care professional, there are a wide variety of opportunities in the health and wellbeing sectors for you. Whether you want to nurse people back to good physical health or focus on mental health and wellbeing, our flexible healthcare courses will support your professional development and enable you to take the next step towards a rewarding career as a health care professional. 
With a high demand for well-trained and dedicated staff, a shift in focus to preventative care on the horizon and a growing admiration for mental health and wellbeing professionals, there has never been a more exciting time to study a health and social care course and prepare for a career in these sectors.
What's more, if you have been inspired to follow in the footsteps of our NHS heroes, you'll be one of the first students of our courses in healthcare to benefit from our new, state-of-the-art healthcare facilities, including a mock hospital ward with infectious disease area, at our redeveloped Openshaw Campus. 
SCHOOL OF
SPORT, HEALTH AND WELLBEING
We're committed to providing all our students with a career-focused learning experience and as a student of our School of Sport, Health and Wellbeing you'll learn in industry-standard, state-of-the-art facilities at our Openshaw Campus, which will provide the perfect environment for you to excel.
Our goal is to help you to secure employment or that much sought-after promotion. That's why our courses are designed to help you learn skills that you can apply in your placements or current role to make an impact immediately. Our tutors are experts who've either previously or still work in industry, allowing them to impart up to date learnings with you so that you are prepared for more than just your assessments, but for a career. So, if you want to benefit from smaller class sizes and one-to-one support when it's needed, look no further.  
We also understand that you have a life and commitments away from your studies, which is why our courses are delivered in a way that will enable you to strike the right balance for you.  Our links with industry partners are another thing you'll benefit from – you can look forward to work experience opportunities and the chance to network and build your contacts. 
DIGITAL PROSPECTUS
Access our digital prospectus for information, advice and exclusive content tailored to your interests.
MEET SOME OF THE TEAM
Our staff are experts in their field and hold a varied range of professional and industry experience. Their support and dedication ensure you are guided, supported and encouraged to learn and achieve within Health and Wellbeing.
OUR FACILITIES
As a Health and Care Professions student you'll learn in new facilities designed to mirror industry, including:
Mock hospital ward complete with industry-standard: hospital beds; screens; PPE; blood pressure monitors, nursing station, hoist and more 
Infectious disease area to facilitate barrier nursing  
Care suite with assistive and adaptable fixed equipment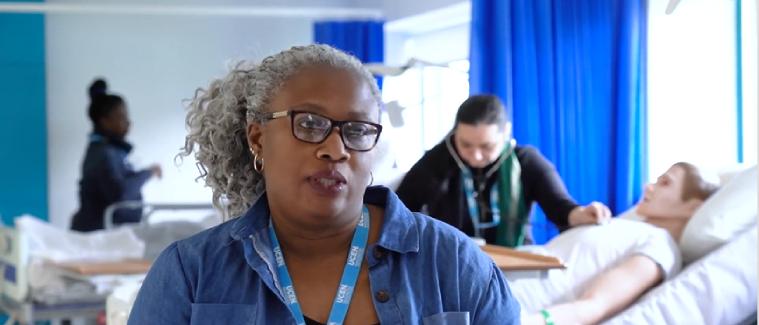 The tutors from my department are really good. We can rely on them and any time we need help from them, they are always there for us.
Case Studies
There are thousands of UCEN Manchester graduates who've found their future with our help.
Latest News
Get the latest news, views and stay up to date with what's happening at UCEN Manchester.